October 08, 2021
The Social and Cultural Association of Jews in Poland, Cracow Branch would like to cordially invite you to take part in a guided tour organised as part of the 2021 POETRY NIGHT and devoted to the poetry of the Polish Jews/Поэзия польских евреев in the Polish and Russian languages, using mobile devices.
9th October 2021, 03:30 p.m. – 05:30 p.m. Cracow District of Kazimierz, Venue: THE OLD SYNAGOGUE, ul. Szeroka 24 at 03:30 p.m.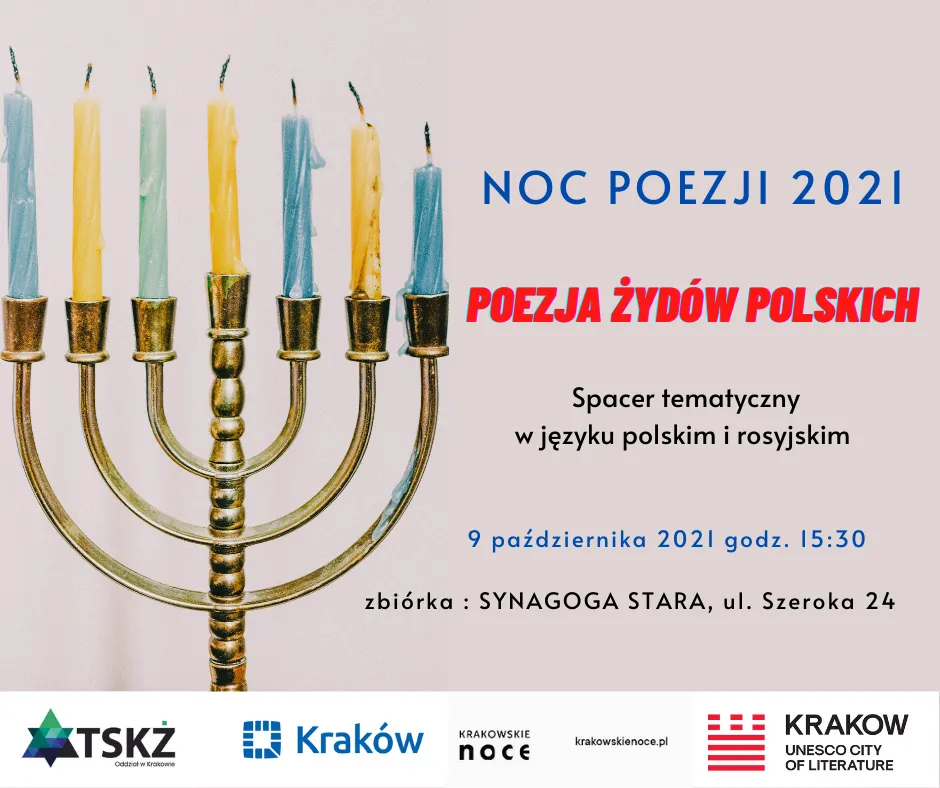 An artistic event aimed at integrating the Jewish community of Cracow gathered around the Social and Cultural Association of Jews in Poland, Russian guests and residents of Cracow. Presentation of histories and literary outputs (related to Cracow and District of Kazimierz) of a number of poets who had to face social exclusion due to their Jewish origin and turbulent times they lived in. During the guided tour, poetry will be read out in several languages (Polish, Yiddish, Russian and Ukrainian) and the guide will speak in Polish and Russian, using multimedia technologies (i.e. tablets, smartphones, mobile devices of participants). The event is supposed to promote inclusion of Russian-speaking foreigners into the European cultural circle and diminish the sense of cultural isolation which leads to emigration and changing one's natural environment. Poetry unites people across different cultures and generations. Polish artists of the Jewish origin such as Bruno Schulz, Julian Tuwim, Jan Brzechwa, Zuzanna Polina Ginczanka (Gincburg), Mordechaj Gebirtig and Josef Bau are famous all around the world. Participants of the tour will have access to QR codes on the tour plan, photographs, Polish and Russian texts, biographic notes, poems and view multimedia content.
---
THE TOUR GUIDE : Aleksandra Łagowska PhD – born in Zhytomyr, Ukraine, residing in Poland since 1999. A graduate of the Polish Studies at the Pedagogical University of Cracow, PhD in General Humanities. Dissertation topic: "Brunon Schulz's Poetic Prose in Russian and Ukrainian Translations". She published a number of interesting papers devoted to translation theory in such journals as e.g. "Estetyka i Krytyka", "Rocznik Przemyski" and articles devoted to social and political issues for "Przegląd" weekly. The author of "The Nearest East" cycle organised by the Cracow Forum of Culture (i.e. "Purchase of the Works of Art") devoted to various topics from Russian and Ukrainian literature. As a Cracow city tour guide, Ms Łagowska creates her own sightseeing projects for Russian, Ukrainian, Belarusian and other Russian-speaking tourists, aimed at discovering many interesting literary and cultural highlights.
---
More info: https://fb.me/e/2OqikRo7o
---
2021 POETRY NIGHT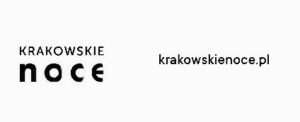 The Cracow Nights Project  https://krakowskienoce.pl/
---


City of Cracow, Magical Cracow, https://www.krakow.pl/
---


Cracow – UNESCO City of Literature http://miastoliteratury.pl/
This project was co-financed by the Municipality of Cracow, as part of "The Cracow Nights- Poetry Night" project".