September 21, 2023
This will be already the 23rd edition of the Kaleidoscope of Musical Forms International Festival in Sopot. This festival event continues to evolve, with each year bringing new inspirations and ideas, so that its successive editions expand into new musical styles, becoming a mixture of sophisticated, modern sounds and often surprising musical arrangements. This will certainly be the case this time too. The festival will begin on 22 September and continue until 7 October. The event will be held under TSKŻ's patronage.
The Kaleidoscope of Musical Forms International Festival in Sopot was hailed by the media and the audience one of the most interesting events on the cultural map of northern Poland. The event focuses on high culture and a high level of artistry. The multicultural aspect of the Festival refers to the diverse cultural heritage of various regions of Europe and the world. Thanks to its interesting and unconventional setting, outstanding artists (Polish and foreign), also of international rank, the Festival is highly valued by music critics, local audiences and guests from Poland and abroad who visit the seaside resort in large numbers at the end of the summer season. The festival has become a permanent item on the summer calendar of cultural events in Pomerania, becoming one of the region's tourist highlights.
During the 23rd Maria Fołtyn's Kaleidoscope of Musical Forms International Festival, Sopot 2023, the audience may take part in musical encounters with the beautiful, diverse and rich Jewish culture, pre-war Polish composers and lyricists of Jewish origin, authors of the hit songs of the inter-war period, which, at that time, used to proliferate like mushrooms. The festival programme will not be short of famous tangos such as "Ostatnia niedziela" [The Last Sunday], "Umówiłem się z nią na 9-tą" [I Asked Her Out for 9.00 PM], "Przy kominku" [At the Fireplace], "Miłość ci wszystko wybaczy" [Love Will Never Hold Grudges] composed by Artur Gold, Jerzy Petersburski, Henryk Wars, Emanuel Schlechter and Andrzej Włast.
The opening concert will feature Gustav Mahler's marvellous songs from the "Rückert Lieder" cycle, while the final concert, in addition to film music reflecting the atmosphere of silent cinema, will be filled with klezmer music daringly performed by the LUDWIK SARSKI ORCHESTRA.
The full Festival agenda can be found here:
Tickets priced at 35 PLN can be purchased on site 2 hours before each concert (concert dates: 22, 23, 24, 29, 30 September 2023, 01, 06 October 2023)
Ticket for the grand finale concert (07 October 2023) priced at 50 PLN can be purchased on site 2 hours before the event.
To book a ticket please call us at:   600 290 214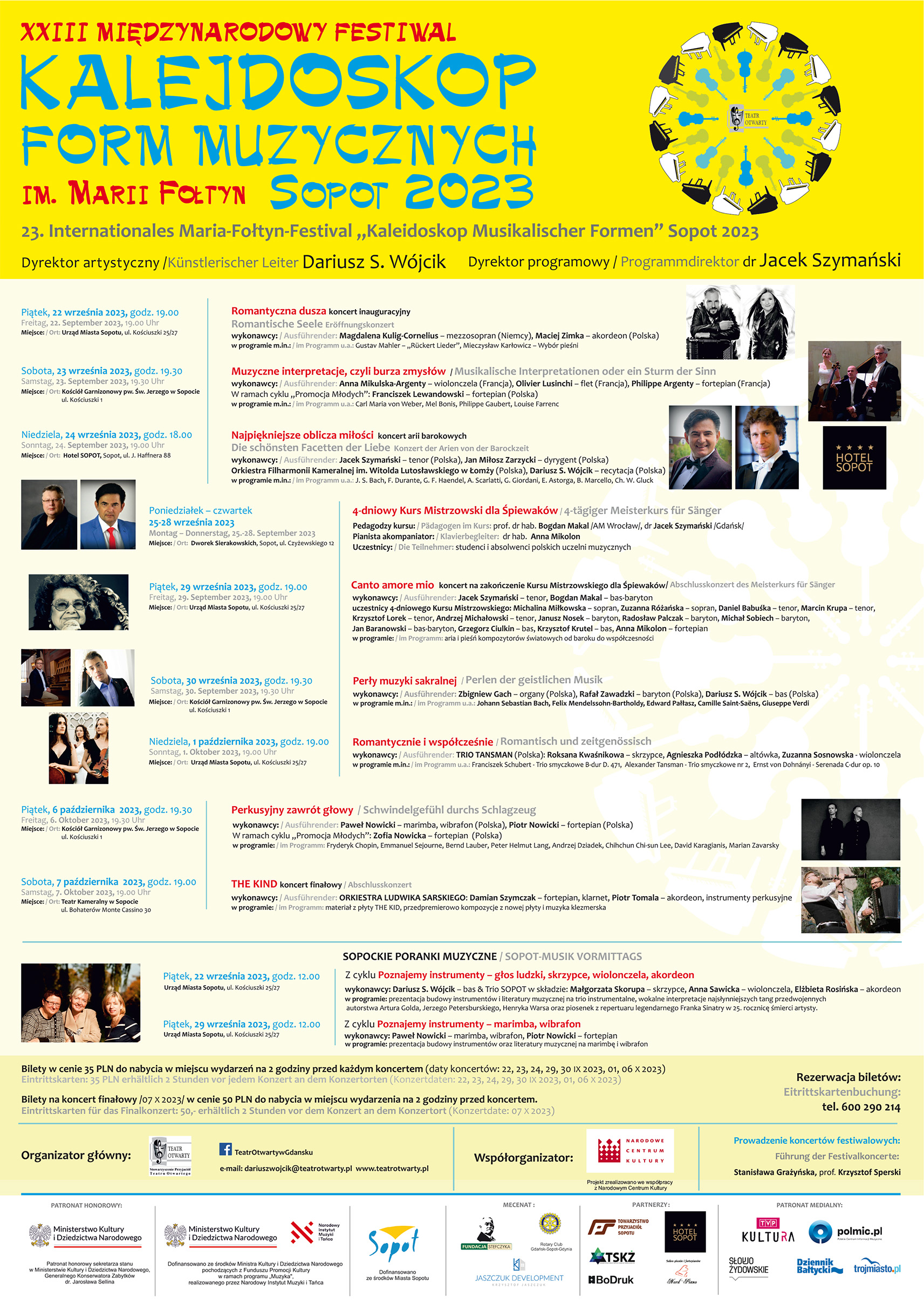 ===================
HONORARY PATRONAGE
Secretary of State at the Ministry of Culture and National Heritage
General Heritage Conservator, Jarosław Sellin, PhD

The project was subsidised by the Ministry of Culture and National Heritage from the Cultural Promotion Fund within the framework of the "Music" programme implemented by the National Institute of Music and Dance
THE PROJECT WAS CO-FUNDED BY THE MUNICIPALITY OF SOPOT

CO-HOSTING INSTITUTIONS:
NATIONAL CENTRE FOR CULTURE
The project was implemented in cooperation with the National Centre for Culture
– HOTEL SOPOT in Sopot
– Society of Friends of Sopot
PROJECT PATRONAGE:
– Franciszek Stefczyk Foundation
– JASZCZUK DEVELOPMENT Krzysztof Jaszczuk
– ROTARY CLUB Gdańsk-Sopot-Gdynia
PARTNERS:
– Social and Cultural Association of Jews in Poland
– Nord-Piano Piano Showroom in Gdańsk
– Garrison Parish Church of St George in Sopot
MEDIA PATRONAGE:
– TVP Kultura
– POLMIC Polish Music Information Centre
– Trojmiasto.pl
– The Jewish Word
– Dziennik Bałtycki
PRINCIPAL ORGANISER:
Society of Friends of the Open Theatre
www.teatrotwarty.pl, dariuszwojcik@teatrotwarty.pl, Phone: 573 459 930