December 02, 2022
The second part of "Yidl mitn fidl or Jewish Culture Days in the Lodz Region" project will be realised from 2-4 December in Skierniewice. The honourable patronage over this event will be held by the Town Mayor of Skierniewice.
On 2nd December at 12.30 p.m., together with the representatives of local authorities, we invite to lay wreaths at the New Jewish Cemetery at ul. Graniczna 14, in order to pay tribute to the Ghetto Victims and all former Jewish inhabitants of Skierniewice. On the next day i.e. Saturday 3rd December at 12.00 noon, we would like to kindly welcome you at the Centre of Culture and Arts to take part in a vocal class held by Ms Urszula Makosz, a singer known for her performances at Piwnica pod Baranami. Later on the same day, i.e. at 3: 00 p.m. Ms Wiesława Rawska-Tejszerska will hold a family workshop in order to familiarise the participants with Jewish cut-out techniques. This is going to be a unique workshop where participants will not only produce their own cut-out pieces, but also expand their knowledge of typical Jewish traditions and traditional objects. Meanwhile, on Sunday 4th December at 12:00 noon, Katarzyna Batarowska will take everyone on a cooking journey through the most famous traditional Hanukkah dishes. During the workshop, Rabbi Dawid Szychowski will also talk a little more about cuisine, focusing on its cultural and religious aspects.
In the evening the finale of the event will be a concert of Urszula Makosz with the band composed of: Krzysztof Cyran – guitar, Michał Półtorak – violin, mandolin, Michael Jones – violin, viola, percussion and ravanhuta.
The singer's repertoire will be made up from beautiful Hanukkah songs – some of them solemn and full of nostalgia for the past, others joyful and funny, presenting Hanukkah from a child's perspective. The melodies and lyrics of such songs as: "O, ir klejne lichtelech" or "Sevivon sov soc sov" will be heard from the stage. Other highlights of the evening will include Hanukkah stories and traditional Jewish songs in Yiddish, Hebrew and Ladino.
The exceptional three cultural days will also be accompanied by unique exhibitions hosted by the Society of Friends of the Municipal and District Public Library in Kutno i.e. "Śladami żychlińskich Żydów" [In the Footsteps of Zychlin Jews] and "Szalom Asz i miasto jego młodości"  [Shalom Ash and the Town of His Juvenile Years]. The exhibitions will be presented at the auditorium of the Centre of Culture and Art.
 Admission to all events is free.
 To sign up for the workshop please use the following e-mail address: warsztaty@cekis.pl Number of workshop participants limited. Deadline for registration is on a first-come, first-served basis. NB! – Please specify the following in your e-mail message: type of workshop, number of participants, your full name and contact phone number.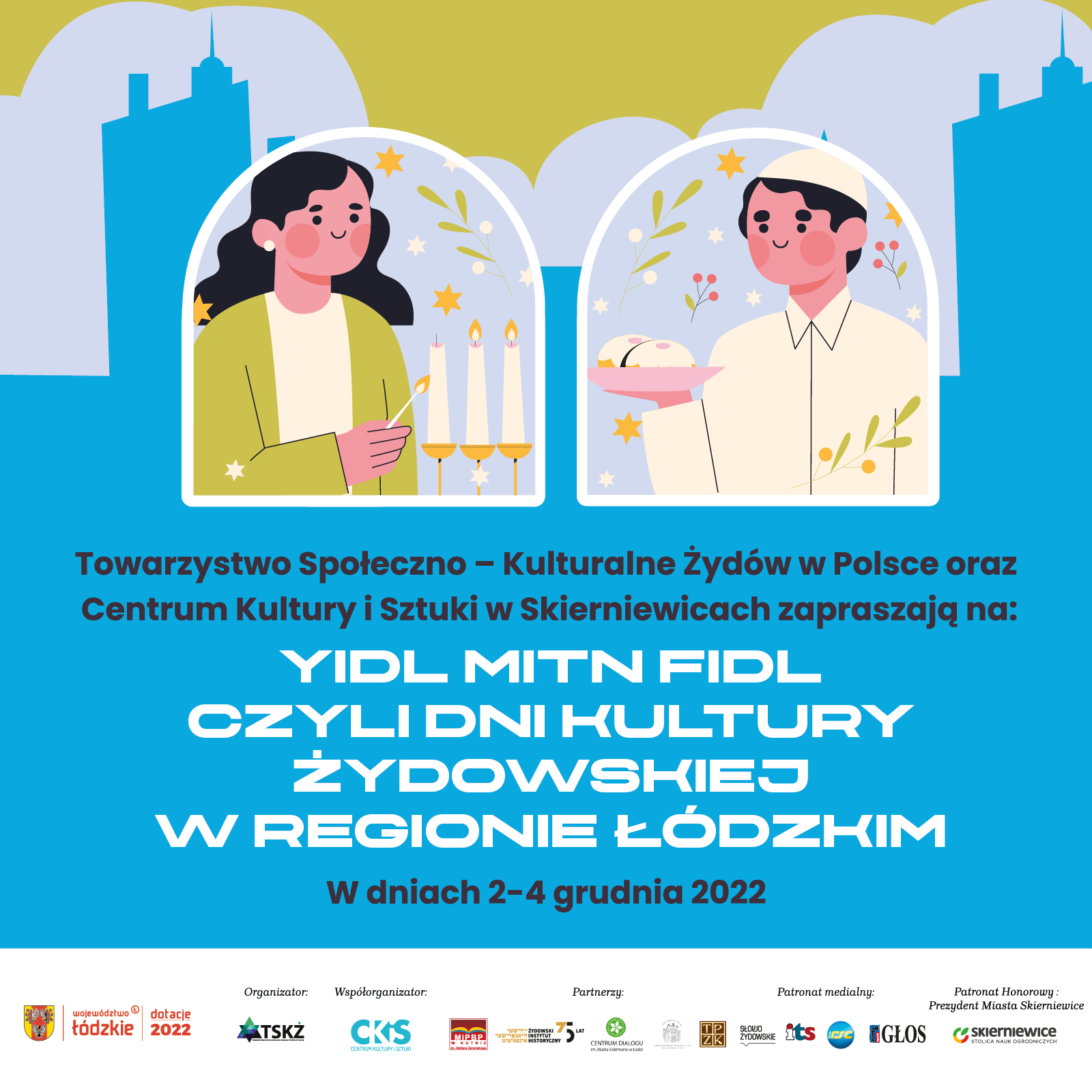 Public task co-financed from the budget of the Lodz Voivodship Authorities