March 27, 2023
On the 80th anniversary of the Warsaw Ghetto Uprising tune in to PR1 and listen to the premiere broadcast of a radio drama based on a play by Jerzy Jurandot: "Love is Seeking a Home". The premiere broadcast will air on 1st April 2023 at 09:05 pm.
It was a Friday. A cold January day in occupied Warsaw. In the oppressed ghetto, the remnants of hope were still ablaze. Does hope really die last? I do not think hope dies last, but first. Is it possible to live without hope? Well, they did.

           35 Leszno Street right in the heart of the Warsaw Ghetto. On 20th June 1941, a group of artists locked up in the Ghetto opened The Femina Theatre. The theatre hall was able to host 900 viewers. Were all the seats in the auditorium full on 16th January 1942?

           At that time, The Femina was managed by Jerzy Jurandot. Mr. Jurandot was thirty-one and had a large artistic output. He wrote the comedy 'Love Is Seeking a Home' to give people just a bit of a smile. There is no price for a smile, although it has enormous value. We do not know the names of the actors who starred in this play. Was Stefania Grodzienska among them? Was Marysia Ajzensztadt, nicknamed as the Nightingale of the Ghetto, in the cast? I can see their faces, although I do not even know their names.

           Think of those days when you listen to our radio drama. Think of those artists when you smile at each other. Think of those audiences who came to the theatre even though they knew the show would soon be over and you had to go back to the flats where love could live but there was nothing to eat.

They are and will always remain a part of Warsaw's history.

By Janusz Kukuła – Director
 "Love Is Seeking a Home" by Jerzy Jurandot is a boulevard theatre play about the love adventures of two young couples who, displaced to the ghetto, have to share a single room.
The time and venue of the farce (which was staged for ghetto inhabitants in January 1942 at the Femina Theatre, whose director was Jerzy Jurandot and whose musical director was Iwo Wesby) and the fate of the people who filled the theatre's halls on that evening make it an expression of the desire for intimacy, love and fun. The play also serves as a testimony of vitality and an irrepressible zest for life. That is why, in preparing the radio play, we picked this particular comedy.
The script of the play has been adapted by Andrzej Ferenc – an actor, director and winner of the Grand Splendour  – i.e. the Polish Radio Theatre Award, and the play's director is Janusz Kukuła – the Polish Radio Theatre's Director & Chief Executive. The musical background has been composed by Hadrian Tabęcki.
The premiere broadcast will be aired on 1PR on 1st April 2023 at 09:05 pm
LISTEN ON THE YOU TUBE CHANNEL TSKŻ: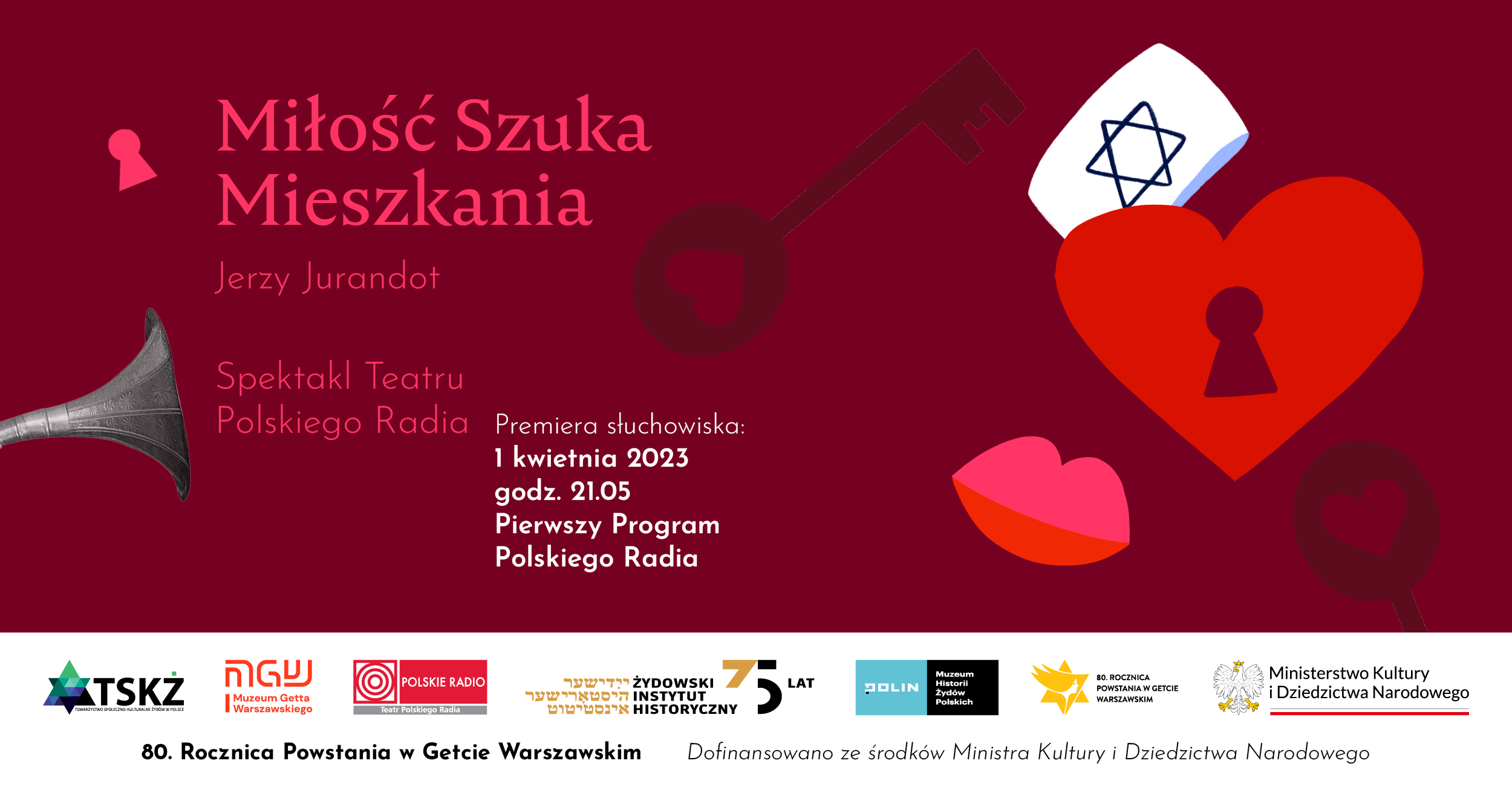 Adapted by: Andrzej Ferenc
Directed by: Janusz Kukuła
Acoustic design: Andrzej Brzoska
Music: Hadrian Filip Tabęcki
(The Band: Hadrian Filip Tabęcki – the piano, Dawid Lubowicz – the violin, Piotr Malicki – the guitar, Mariusz Jeka – the clarinet, Maciej Szczyciński – the double bass, Piotr Maślanka – the drums)
The Cast:
Marian Opania, Andrzej Ferenc, Katarzyna Dąbrowska, Krzysztof Szczepaniak, Katarzyna Kanabus, Anna Grochowska, Mikołaj Śliwa, Henryk Rajfer
The Producer: The Social and Cultural Association of Jews in Poland
The Co-Producer: The Warsaw Ghetto Museum
Photo by: Piotr Woźniakiewicz/Ars Lumen