April 05, 2022
We are happy to share good news that we are back with our project named "The Babel Club Music Stage" after the pandemic break. It has been 5 years since we started to host musicians representing various trends and styles, as well as the diversity of Jewish music and Polish multicultural heritage, at the Babel Club in Warsaw. The first concert of the 2022 annual edition will take place on 10th April at 4.00 PM. The Babel Club will be happy to host  Daniel Gałązka and his Band (DGZZ).
"DROGO WSKAZY, znaczy KORZENIE" – is a travelogue focusing on the sudden and unexpected discoveries of various Truths and Identities. It is a story about intricacies and mysteries of the human fate. It is a story of Man who is Shaped and Fulfilled by the history. It is a story about Intuitions and Hopes. The Story which is presented in DGGZ songs, written by Daniel Gałązka, the composer, and Piotr Brymas, the poet touched by the Cause…
DGZZ was founded in 2002. The band is a continuation of Daniel Gałązka's solo career. "I zobacz" is the band's third album. The music was arranged and recorded by the band in its revised composition, including such outstanding musicians as Piotr Aleksandrowicz and Krzysztof Szmańda. DGZZ's previous releases included their 2009 debut album "Dotykam dachów"  and "Odległości", a studio record released in 2012. All songs and lyrics have been composed by the band's members. Their musical output has been inspired by a diversified mixture of musical genres.
DGZZ is composed of:
Daniel Gałązka – composer, lead vocals, guitar
Piotr Aleksandrowicz – guitars
Marek Konatkowski – bass guitar
Sebastian Frankiewicz – drums
Piotr Brymas – lyrics
Free entry upon prior confirmation of attendance at: komunikacja@tskz.pl
---
For more details, please go to: https://fb.me/e/2DuXfmwkQ
---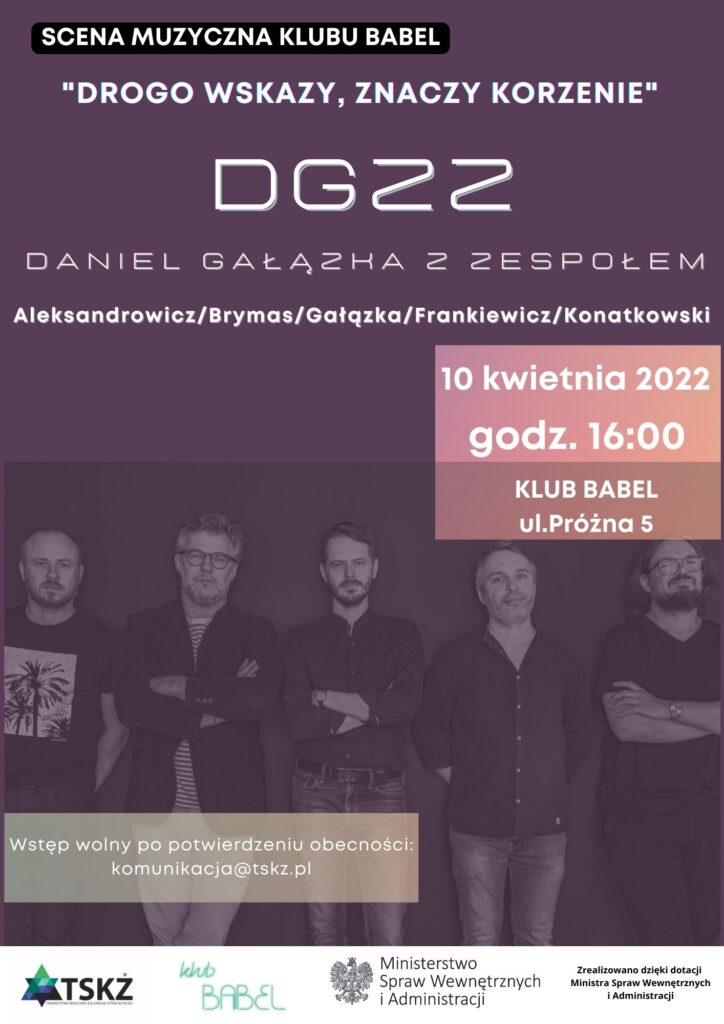 ---
The concerts will take place from 10th April to 28th  August. The artist who will perform in the coming months include, among others: Gerard Edery, Sentido, ROKduo, Patrycja Zywert Szypka, Joanna Trafas and Jacek Bylica, Lorena Neto and her Band.
---
The Babel Club [Klub Babel] is located in Warsaw, at ul. Próżna 5. To keep up to date with the events taking place at the Club, please visit their FB page