29 start-ups per million inhabitants. 4.6% of the GDP, worth nearly 400 billion USD, allocated to research and development. Plus, dozens of digital age, global businesses that have their roots here, on earth. The Israeli drive for innovation no longer surprises anyone. But the pace at which this small country is expanding businesses in the field of technology is still very impressive.
The Israeli race with the rest of the world, however, has not always looked so rosy. A country, organized almost from scratch a hundred years ago,  could count on support from the outside only since the 1960s. From then until 2007, more than 100 billion USD flowed from the friendly United States to Israel. It is hard not to admit, that if it had not been for this money which was used to build a huge military sector, we would not be able to count on  hi-tech innovations "made in Israel" on such a scale as we do now.
Similarly however, in other places in the world, innovation was first born alongside armaments and the military. The California Silicon Valley in the USA owes its enormous success to the military. The enormous stream of money that flowed from the central US budget for arms technologies developed there, new products for the military or the politically encouraged space race, also stimulated the development of "civil" solutions. It was only a matter of time before thousands of talented specialists joined this trend and found work in companies budding alongside the military sector. Several decades later, the Silicon Valley already flows in its own course. And whether we like it or not, it still dictates the conditions for the development of the digital age world.
Israel followed a similar path. It is difficult to imagine "Israeli technologies" without connecting this concept to the military. The geopolitical location of the country also forces such a state of affairs, but the Californian scenario does not surprise anyone here. Israel spends (has to spend) a lot of money on defense, hence the natural flow of talent / biography / solutions between the military realm and civilian realm. And it is among the "civilians" that the best ideas are now flourishing, although – due to their young age – many CEOs are former military personnel or secret service agents.
Interesting is the fact that even the Mossad intelligence agency opened its own venture capital fund under the name of Libertad Ventures. For an amount of nearly 3 billion USD, it wants to implement the most futuristic innovations. And the famous Meir Dagan, ex-director of the Mossad, is now a valued investor in the … biotechnology industry.
The drive of Israeli specialists in inventing new solutions / devices / applications is supported on an ongoing basis through massive subsidies from the state budget. The aforementioned 4.6% of the GDP worth nearly 400 billion USD is a huge sum. And this vector set by the government in Tel Aviv means that there can only be more products from Israel making a global career. Specialists in the capital, Haifa or Beer-Sheva, considered to be the heart of the Israeli tech-system, have a comfortable working environment. There are many different funds, grants and investor platforms here.
If a product / solution / application gains recognition among mentors and the investment industry, its creators have access to considerable capital for the promotion / development / improvement of their ideas. Young businesses can count on up to 85% of financing in the first two years of operation. Israeli tech industry policymakers know that without adequate financial support, even the best ideas can fade away / lose their moment of brilliance / not develop optimally. And losing a race in the field of technology could cost the country far more than the money spent on supporting it.
Other branches of the Israeli economy also contribute to the success. In 2019 alone, exports increased by 5 billion USD, and their main component was – none other than IT technologies. The app-managed tourism sector saw as many as 4.6 million foreign tourists. This translated into another 23 billion USD of inflow to the Israeli economy.
Investments in modern education are constantly being made: there are already as many as 1,400 scientists for every 100,000 inhabitants. Just before the pandemic, the number so-called "unicorns" i.e. young companies with a market value of more than 1 billion USD doubled. Israel currently has 22 less "unicorns" than the UK, USA and China, leaving behind such powers as Germany, France and Japan.
And it is in this approach that we should see the impressive success of so many global scale "made in Israel" solutions. Over the past decade, Israeli start-ups and technological companies have introduced dozens of highly successful systems / products / solutions to the global market. Almost all of us know them, because we use them on a daily basis, e.g. on our smartphone, on our computer or in our car.
Viber, Whatsapp, Waze, Wix – these are just some of the businesses. New "hot products" appear here almost continuously, which is not surprising in a country where nearly 400 new start-ups are established annually. According to data from Deloitte, an international analytical company, nearly 7,000 companies operate in the IT / hi-tech / finance sectors in Tel Aviv alone. This gives the highest concentration of companies within one metropolis in the world.
Israel, however, does not mindlessly consume its undeniable success. By investing so much in the Research and Development sector, educating highly qualified engineers, there is a general belief that nothing is given once and for all. The country and its people believe that their high position, achieved through hard work, should be defended and stimulated with new investments practically all the time.
The competition is not sleeping. In a globalized world, where China rushing through at a overwhelming pace has already become a separate "space", where cities such as Vienna in Austria, Austin in the US, Stockholm, Singapore and London are also fighting for the title of best incubators and ecosystems for growing start-ups, Israel does not have a monopoly on victory. Hence programs of extensive cooperation with other countries are encouraged in order not only to keep up and compete at this insane pace, but also to educate and inspire each other.
Startup Nation Central was established for such activities. Currently, it is one of the exemplary organizations supporting the development of start-ups in the world. Recently, it has also been cooperating with Poland. In 2017, an agreement was signed between Startup Nation, National Holding Bank and the Creators Ideation Lab, an institution supporting the connection of larger corporations with start-ups. This happened on the occasion of the Polish-Israeli Economic Forum, a cyclical event aimed at bringing together innovators / technologists / investors and decision-makers from both countries. The pilot activities for start-ups include nine months of mutual exchange between 15 young companies from Israel and Poland, meetings with investors, mentors and development of relationships with corporations.
It sounds good, although there is still a lot to do to achieve success in Polish-Israeli relations in the field of technology. There are much bigger challenges ahead of us. And this is not only the case in terms of the controversial issues in politics, but in the overall picture of economic relations between Israel and Poland. The trade turnover of both countries exceeded 1 billion USD  in 2017, but at the same time the Middle Eastern state is Poland's 40th partner in terms of exports (0.3% share) and 51st in terms of imports (a lousy 0.2%). Still, the main area of ​​trade is agri-food products and the electromechanical industry. Not much is done in terms of technologies or innovations. Will this change?
Certainly, a lot is already happening on an informal level. Young start-up circles from Warsaw, Cracow, Wroclaw and the Tri-City successfully cooperate with innovators from Israel. This is also certainly favored by numerous direct air connections between Polish cities and Tel Aviv, more and more Israeli capital in new hi-tech businesses flourishing on the Vistula, but also by a general opening of Israel to the outside world, related to the progressive normalization of relations with many previously hostile countries of the region.
Regular passenger flights from the Arab hubs of Dubai or Abu-Dhabi, or the normalization of diplomatic relations with the United Arab Emirates or Bahrain, also show hope that the complicated situation in the region does not have to translate into a nervous situation on the investment market. Countries who were enemies in the Middle East are now also linked by a common enemy – the COVID-19 epidemic. This results in more cooperation in bio-technology, pharmaceuticals and medicine. And start-ups dealing with ecology, energy optimization or protection of water resources can also count on special treatment from the evaluators of partner projects.
This is probably why the Polish National Center for Research and Development (NCBR) together with the Israel Innovation Authority announce annual competitions for joint research and development projects. In the first six Polish-Israeli competitions, NCBR funding for Polish partners amounted to over 10 million PLN. Although such initiatives are still a drop in the ocean of needs, it is worth emphasizing that since 2010, something is happening in the subject. In recent years, joint projects in the areas of information systems engineering, electronics, electrical engineering and – where Israel is particularly strong – cybersecurity have been financed. It is also worth adding that in 2016, an agreement between Poland and Israel on cooperation in the research and development industry entered into force.
These are not all the technological activities linking our two countries. In 2019, the Polish-Israeli conference "How women in Poland and Israel do business … and why they do it so well!" Was held in Jaffa. Participants took part in discussion panels and workshops on new technologies, science, media, urbanization and fashion. The location of the event was symbolic. It was in Jaffa, in 1996, that the president of Israel, Shimon Peres, having Polish roots, established an institution which would deal with the implementation of development and innovative ideas and projects.
What can we learn from Israel? Certainly ingenuity in managing energy, be it solar or wind energy. In a country where kibbutz fields full of green onions grow in the middle of the dry Negev desert, innovative ideas for irrigation or water circulation / recovery technologies are made apparent. A country that derives a significant part of its electricity from solar farms located in constantly sunny areas can give us a lot to think about how to manage energy from the sun in the era of global warming. It is certainly a great area for young companies, engineers or start-ups with a mission to heal the planet.
What can Israel get from Poland? Certainly a bridge between the highly digitized Israeli economy, and the markets of European Union. Certainly access to many talents. And finally, a fruitful area for new investments in technology hubs in Poland. It is enough to mention that this potential has already been noticed by the German telecommunications tycoon T-Mobile, running its offices for young talents in Berlin, Tel-Aviv and … Cracow.
How much good can still happen between Poland and Israel in the field of technological cooperation in the "digital age"? Certainly a lot, especially since Poland, which has been on the sidelines of the technological revolution in the world for decades, has from whom to draw inspiration and role models. There are more and more opinions about the need for more courage in taking the first steps in Polish business, following the example of the Jewish "chucpa" approach. This approach claims that despite failures one should keep trying and "if it is not possible to enter through the door, then one should enter through the window", and a failure is only a failure if one accepts it as a failure after doesn't get back up and keep going.
Are we ready?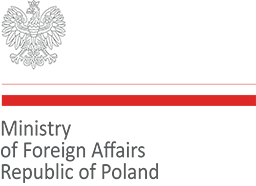 Public task financed by the Ministry of Foreign Affairs of the Republic of Poland within the grant competition "Public Diplomacy 2021″