October 04, 2022
Welcome to a premiere show of ""T.de.L. The Insatiable" which will be presented on 28th October 2022 at 7:00 pm at Prom Kultury Saska Kępa (ul. Brukselska 23). The main character of the play is an exceptional artist, Tamara Lempicka.
Starring: Katarzyna Żak and Ewa Makomaska.
"T.de L. The Insatiable":
Tamara was born and bred in luxury, and knew what she wanted from life even as a child. She used to pursue her goals ruthlessly, and at all cost. She always felt unrestrained, liberated and emancipated. She never let anyone but herself decide about her own life. She had no complexes. She was extravagant, lofty and often arrogant. She always wanted to be in the very spotlight. She was the queen of the roaring twenties. She devoted her entire rocking career to building her personal legend. She fabricated reality either out of habit, or in order to impress others, depending on the circumstances.
The manner of her self-creation has certainly become a model for future celebrities.
She had lovers of both genders, but the only person she only truly loved was her first husband Tadeusz – Tade' – Lempicki.
She was fond of wealth, glamour, posh garments and lavish parties …
She created her unique style in art. "She painted kings and whores… and never had enough. The insatiable."
"T.de. L. The Insatiable", a play written as a monodrama is a kind of psychological drama, a vivisection, a washing off of the make-up of self-creation and a confrontation with the real "self".
The dialogues between the two starring actresses (Katarzyna Żak and Ewa Makomaska) illustrate a conflict between "Me" and "Myself". The artist's internal photo, which is broken down into a 'positive' and a 'negative', is an epitome of the rift between her created image and reality.
The play addresses the question on whether  "Tamara in a Green Bugatti" is a self-portrait of the real artist, Tamara Lempicka, or an imagined character.
Starring:
Katarzyna Żak
Ewa Makomaska
Written by: Blanka Konopka
Direced by: Artur Hofman
Set and costume design: Maja Grau, Tomasz Ciesielski
Multimedia presentation: Maja Grau, Tomasz Ciesielski
Musical arrangement: Marcin Wasilewski
Make-up: Łukasz Adelon Rembas
Host of the event: The Social and Cultural Association of Jews in Poland
Partners: Prom Kultury Saska Kępa, Żydowski Instytut Historyczny
Tickets: PLN 30 (available at: www.promkultury.pl)
The play will also be presented on 30th November and 9th December (at Prom Kultury Saska Kępa)
Join us on FB https://fb.me/e/3Y5Qw8tg1
See reportage from the premiere:
fot. Piotr Woźniakiewicz/Ars Lumen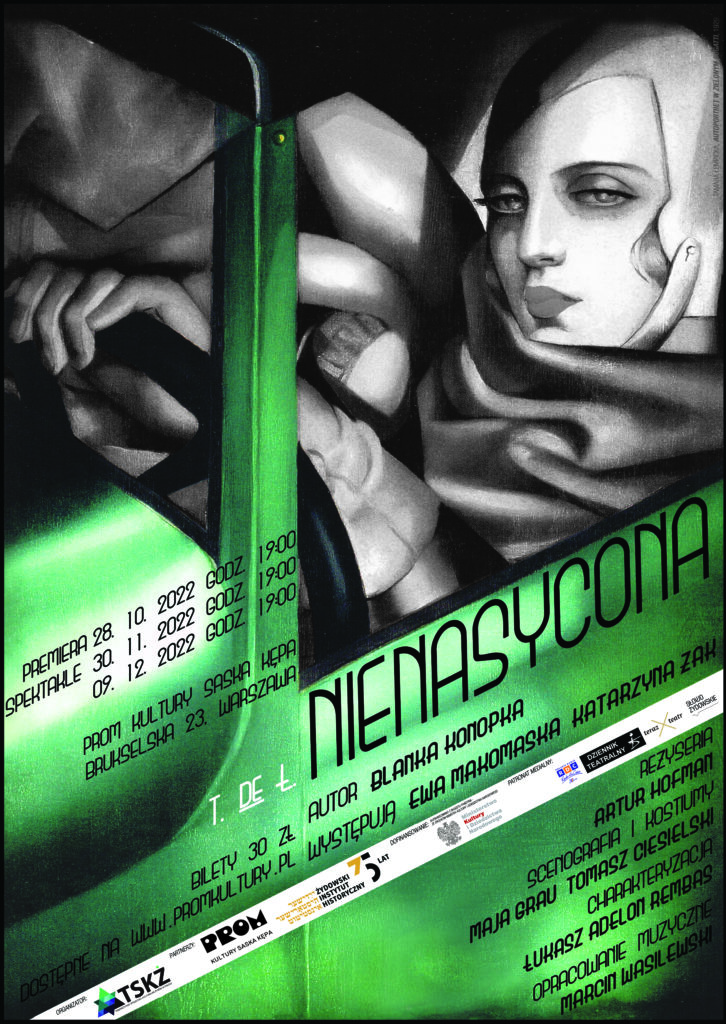 The event was subsidised from the state budget by the Ministry of Culture and National Heritage