October 19, 2023
On 16th October, we gathered together at Grzybowski Square in Warsaw to commemorate the victims of the Hamas attack and express our hope for the rescue of those who had been taken hostage. We lit candles which symbolised our solidarity with those people.
Excerpts from letters from the families of the hostages touched us deeply and made us reflect on how precious peace and mutual understanding could be. In the face of this great tragedy, we have demonstrated that we can stand hand in hand. May this evening be a reminder of the strength of the human spirit and our common struggle for peace.
This meeting at Grzybowski Square became a moment of deep reflection and an example of a community-building event. The posters depicting the images of the abductees, as well as a picture of Alex Danzig – an Israeli historian born in Warsaw and a Polish citizen who has spent his life promoting Polish-Jewish dialogue – were a reminder of specific individuals who had fallen victim to hatred and of the values they represented, which must be safeguarded by us.
Our joint action showed that, in the face of tragedy, we are able to join forces, expressing our solidarity and sympathy for the victims.
The assembly was opened by Professor of Sociology Ireneusz Krzeminski, who uttered the following words: "It has been a week since we learned of the Hamas attack on Israel: an unexpected, bloody and extremely brutal act. The massacre of music festival participants, schoolchildren and even babies shocked us all. Meanwhile, a hail of missiles fell all over the territory of Israel." He ended his speech by stating: "And let us remember that not every Palestinian resident of Gaza is a ruthless terrorist, but also, perhaps, yet another victim of the Hamas violence."
The meeting was marked by the presence of people close to Alex Dancyg – his friends and acquaintances, including Dorota Salomon, who introduced the esteemed and much-admired educator to the audience. A personal letter from Alex Dancyg's son addressed to the abductee was read out by a close family friend, Ania Różanska.
"Young children in 2023 should not be hearing where you are now and under what circumstances…. I have no words to answer for my girls, your granddaughters, whom you love so much. They all miss you and want you back. You don't deserve to be where you are now. (…) I miss you so much. I miss our fascinating conversations. I miss your loving gaze, which I remember from our visits with the girls.
Our dear and beloved Father, come back home."
The letter by the US Ambassador, Mark Brzezinski, was read by Mr Daniel Lewton, Head of the Diplomatic Mission: "On behalf of President Joe Biden and the people of the United States, I join in your plea for the swift and safe rescue of all victims of kidnapping by Hamas. The United States' support for Israel is unequivocal. Hamas is a terrorist organisation that does not represent the aspirations of the Palestinian people. What happened on 7 October was an act of terrorism, hatred and pure evil."
The meeting ended with a minute's silence in memory of the victims and those taken hostage.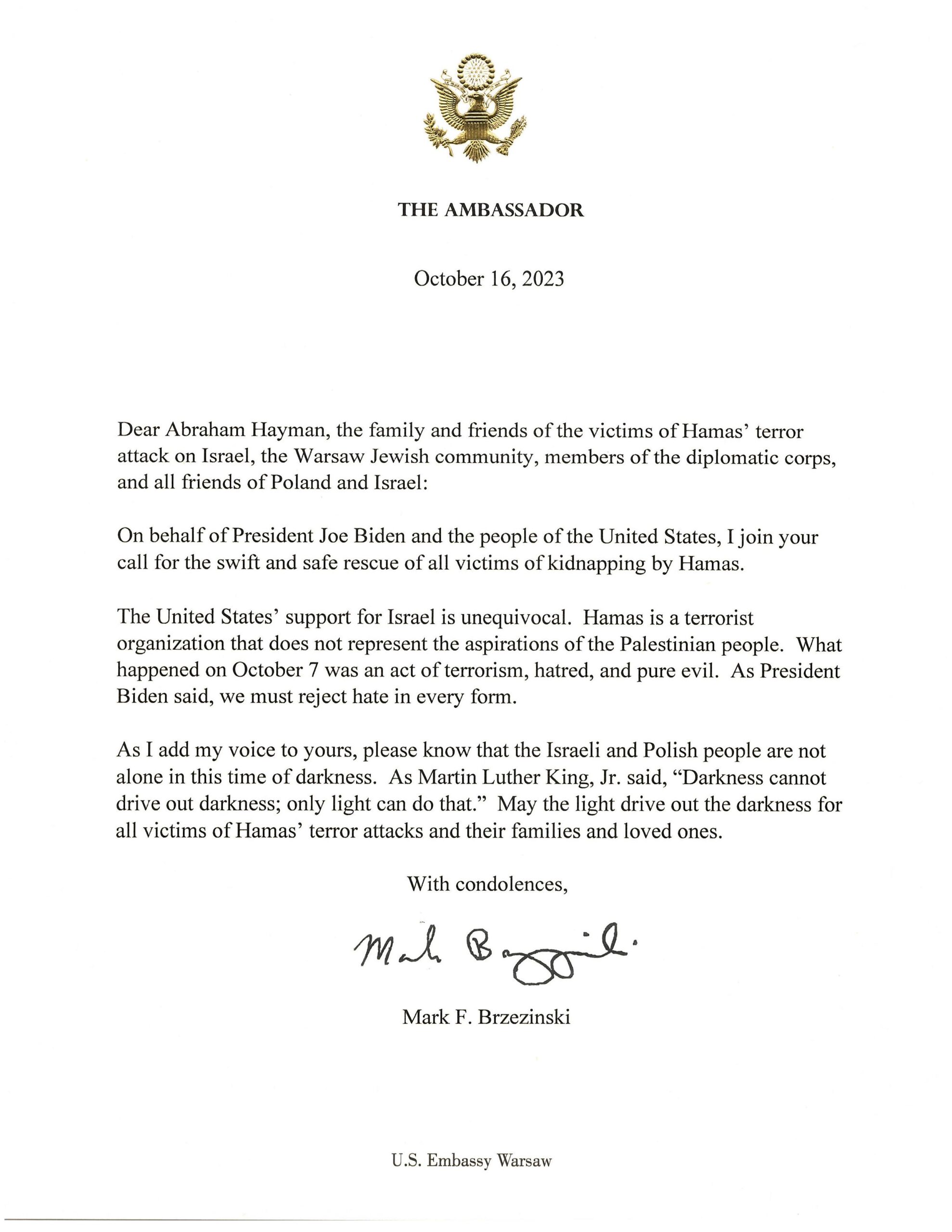 Photo by Igor Lewicki/TSKŻ